Professional Pest Solutions For National City, CA Properties
Just a short drive to downtown San Diego, the South Bay community of National City, CA, is a great place to live, work, and play. It offers a beautiful marina, and all the waterfront adventure you can ever ask for. However, it's also a place that is vulnerable to pest activity, and that means local homes and businesses are exposed to potential infestation. If you want to secure the absolute best residential and commercial pest control solutions in the area, look no further than the team of experienced pest technicians at Green Flash Pest Control.

Since 2015, our family-owned and operated company has been servicing homes and businesses with complete pest solutions. We work hard to make "pests gone in a flash," and we're proud to service properties throughout San Diego County and the surrounding areas. Get in touch with us today to discuss your residential and commercial pest control needs; we look forward to your call.

Home Pest Control In National City, CA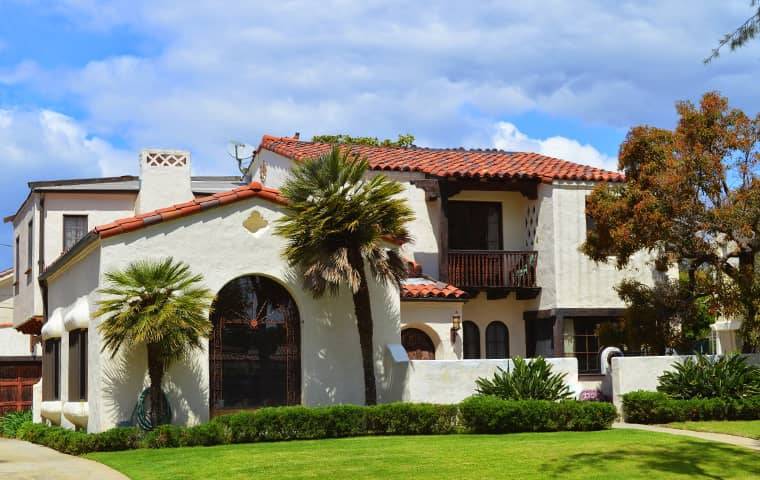 To protect your National City home from household infestation, you've come to the right place. The team at Green Flash Pest Control has serviced over 5,000 homes in the area, helping guard local homeowners and their loved ones from the dangers of pest infestation. Our residential pest control process includes:
Consultation with the client to review the problem.

Thorough, comprehensible inspection.

Customized treatment report.

Effective treatments backed by research.
We're skilled in providing low-impact pest solutions, and using organic pest products that are completely safe for your property, your family, and your pets. Whatever household pest pressures you're facing, you're not in it alone. Call us to learn more about our home pest services, and how we can help protect you and your family from harm.
Commercial Pest Control In National City, CA
National City is a great place for shopping, meaning there are countless stores and restaurants for shoppers to explore and enjoy. The competition can be fierce, which is why it's crucial to stay on top of your game, and maintain a good reputation around town.

One of the fastest ways to take down your good name is to experience a pest infestation. So, to protect the future of your business, you should keep all pest activity out of your facility. Our commercial pest control solutions provide your business with complete protection from pests. When you go with Green Flash Pest Control, you get:
Quality service and outstanding customer care.

Highly trained, qualified pest technicians who are licensed pest professionals.

Low-impact products and organic products that are safe for everyone.

Tailor made services geared toward the individual customer.
We've serviced hundreds of local properties, some of which include retail stores, office spaces, warehouses, factories, hospitality, doctor's offices, and property management. Speak to one of our pest experts today about your commercial pest control needs, and we'll get the ball rolling.
Why Are Cockroaches In National City So Hard To Get Rid Of?
Cockroach infestation can have serious health consequences for you, and everyone else around your property. Local cockroach populations find their way inside National City homes and businesses, and when they start spreading, they can be very hard to get rid of.

Cockroaches are stubborn, and they have strong immune systems, so they can survive even the most dire conditions. They are resilient survivors that can survive on a wide range of food sources, including substances like waste and decaying matter. They've also developed a resistance to conventional pesticides over time.

Something else to think about is the fact that cockroaches breed prolifically, and have very high reproductive rates. They're also skilled at staying hidden away in different harborage spots, making their growing populations hard to detect.

The fact of the matter is that it's extremely difficult to get rid of a cockroach infestation, especially on your own. The best way to go is to call on the pest professionals to address all your cockroach control and prevention needs. Reach out to Green Flash Pest Control today for roach-free results you can rely on.
Five Rodent Prevention Tips For National City Property Owners
Rodents can be clever about getting into local homes and businesses, and they expose National City property owners to the threat of infestation. If you want to prevent rodents from infesting your property, it's a good idea to be proactive. Here are five ways to keep rodents away from your property:
1. Block off entry points, and seal up cracks and crevices.

2. Eliminate excess moisture and water sources.

3. Get rid of wood piles and yard debris.

4. Prevent access to food sources.

5. Store trash in a tightly sealed metal container.
While these efforts can help to reduce your exposure to rodents, the fact is that none of them are entirely effective on their own. The best way to approach rodent infestation is to rely on experienced pest professionals. Call Green Flash Pest Control to address all of your rodent control and prevention needs.
National City Exterminators Offer Termite Detection Tips
If you're a National City homeowner, the word termite can send you into a state of shock and pure panic. Termites are social insects that live and work together in colonies, all with one common goal: to wreak havoc on the structural integrity of your home.
As these pests work in silence, slowly ravaging your home, it's easy to forget that they're a threat to your home. That reason alone is why it's crucial to have your home inspected and treated for termites at least once a year.
Within National City, you only have to worry about three species of termites: subterranean termites, drywood termites, and dampwood termites. And though each species has different feeding and nesting habits, their signs of damage are all pronounced. Here's what to look for:
Dry mud tubes
Termite swarmers
Sinking window lines
Bubbling and peeling paint
Discolored wallpaper
All of these are signs of termite damage. However, some of these signs are also signs of water damage. Either way, if you see these signs in your home, you want to get your home inspected for termites as well as for leaks in your roof or home's exterior to get to the root cause of why you see the damage.
At Green Flash Pest Control, we have all the proper tools and equipment to determine if what you're seeing is indeed termite damage or not. Always remember that prevention is much easier and better than a cure. Give us a call today, and we'll handle all your termite control needs.
Five Easy Ways To Keep Rodents Out Of Your National City Home
Rodents are a dime a dozen here in National City, and because of that, it's not uncommon to find them making a home out of your home. They find solitude in our homes because we provide them with the necessities to fulfill their basic needs: food, water, and shelter. And in many cases, we don't even realize we're giving them access to infest our homes.
One thing to note is the types of rodents native to the area. In National City, the rodents include roof and Norway rats, field and house mice, gophers, and ground squirrels. Suppose you happen to look out your window and see any of these critters. In that case, you'll want to immediately get rodent control services started just for the simple fact that a few rodents in your yard can turn into an infestation extremely fast with the speed that these mammals reproduce.
Once you treat your home for rodents, you can then implement these preventive measures:
Keep your grass cut short.
Make sure weatherstripping is intact around windows and doors.
Cut tree branches back away from your roof.
Ensure the lids of trash cans, recycling bins, and compost bins are tightly closed.
Repair cracks in your home's exterior.
To learn more about our rodent control services, give Green Flash Pest Control a call and speak to one of our certified experts.
Ant Issues In National City
The issue with ants for all National City residents is that they're small but mighty and can be extremely difficult to remove, especially on your own. But the good news is that you only have two species of ants to worry about for the National City area: the Argentine and rover Ants.
Argentine ants are small dark brown or black ants with shiny bodies. The distinctive feature is that they produce an unpleasant odor when crushing.
Rover ants are much smaller, and their body colors can be anything from blackish-brown to a pale yellow color. The distinctive feature of rover ants is their nine-segmented antennae and large eyes.
Although these are only two ant species most commonly seen in National City homes, the issues they can cause in your home can be intolerable, especially with an infestation. Here are some of the problems you could experience with ants in your home.
Food contamination
Other larger pests that eat ants
Nuisance
Of the two species most common in National city, they're mostly a nuisance. There are ant species that destroy wood (carpenter ants), but they're not of primary concern here. However, at the sight of a single ant, you're going to want to get in touch with a Green Flash Pest Control expert to set up an appointment for treatment.
We can guarantee you that an entire colony is hiding beside the single ant that came out. And because ants invade in numbers, professional pest control will be the best option to co completely get rid of them.
Exterminating Bed Bugs In National City Is No Small Feat
Contrary to popular belief, you don't get bed bugs because you keep a 'nasty' home, and bed bugs aren't just in beds. Your home can be spotless and still have bed bugs!
The reality is that bed bugs don't just appear out of the blue. It's your fault when you have a bed bug infestation in your home. Typically, bed bugs enter your home from public places. For example, you are traveling somewhere and staying in a hotel with an infested bed. In that scenario, bed bugs can not only attach to you but also your luggage, your clothes, and your purses– anything. However, you can also get bed bugs from buying used furniture and riding in an infested car.
As a resident of National City, you're also a resident of a tourist attractive city, so any public places you go to, you want to do your best to keep your bags off the floor for sure. Additionally, when traveling and staying in hotel accommodations, always inspect the room, not just the bed, as bed bugs hide in electrical sockets, screw heads, behind wall art, and the seams of couches and chairs.
At Green Flash Pest Control, we don't expect you to know all the hiding places of bed bugs, but we know them. That reason alone is why if you do have a bed bug infestation in your home, it's vital to contact our expert team to remove them and ensure they don't come back effectively. We have all the necessary tools and equipment to eradicate such infestations properly.
Request Your Free Inspection
Complete the form below to schedule your no obligation inspection.