Keep Destructive Termites Out Of Your San Diego & Riverside County Home
In our Southern California service area, we have drywood termites, subterranean termites, fungus termites and dampwood termites. Each of these wood-destroying organisms present a unique challenge. But don't worry, your Green Flash pest professional is experienced and trained to meet the challenges that termites in California bring.
Termite Control From Green Flash Pest Control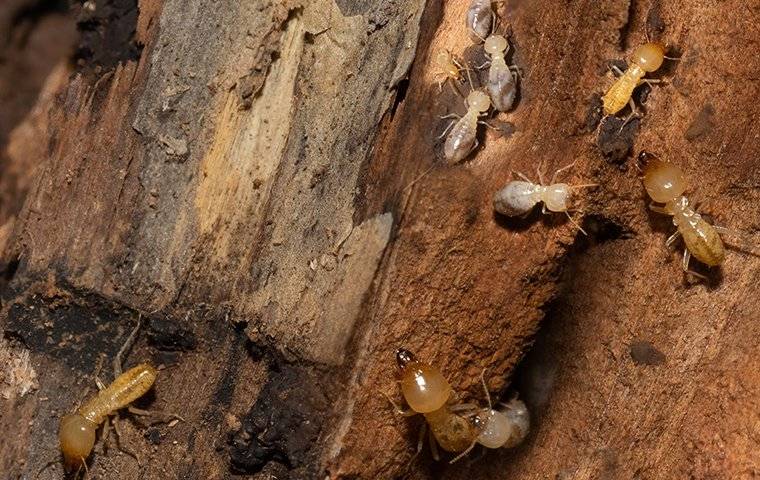 Spot Treatments
Termites eat wood. If you have termites inside a structure on your property, you may need a spot treatment to arrest the infestation. Our licensed pest professionals select the treatment based on the findings of your initial inspection. Damage may be removed and repaired, expanding foam may be used to seal termites out, and a liquid concentrate may be used to knock down termites that are present in the wood. This service comes with a 3-year, renewable warranty.
Fumigation
If termites are throughout a structure, it may be necessary to tent the structure and use a fumigant to address the infestation. Fumigation is like flicking a reset button on a termite problem. The gas works its way into every pore of your wood and into every tunnel termites have made. This process is quick, but you will need to be away from the structures for three days and two nights to make sure the product has fully dispersed.
Soil Treatments
The most destructive termites in the United States are subterranean termites. These termites come up from the ground to feed on structures. We apply a barrier around structures that termite workers must pass through to get up and into the wood of your property. The product we use is invisible to termites. They pass through it and without knowing it share it with each other. This results in termite colony elimination. No more colony; no more threat. It's that simple.
The application of liquid control products may require drilling and trenching. Your Green Flash pest professional uses specialized devices to ensure that no harm comes to your property. This treatment comes with a renewable warranty and annual inspection to ensure your property always stays protected.
Borate Treatments
If you're building a home or business, we offer pre-construction borate treatments to help preserve the wood and make it resistant to termite damage. These treatments can also be applied post-construction.
Termite Inspections
If all you want is an annual termite inspection, or you're looking to clear an escrow, we can assist by providing a termite inspection and appropriate documentation. Termites can provide warning signs of activity, and there are many conditions that are conducive to termite activity. These are all recorded and provided to you. We also can help you get your home ready for termite season.
Termite Damage Repair
If you have wood that has been damaged by termites, dry-rot, or areas that are infected with fungus, we can help you address these issues. We offer a wide range of termite repair services that get your property back to a sound condition and up to code. During this process, your Green Flash pest professional will assess wood members and determine what needs to be replaced, and what may just need to be treated. This helps to cut costs and helps you meet your budgetary constraints.
Get Rid Of Termites With Green Flash Pest Control
If you have questions, or you'd like to request service immediately, reach out to us. We're looking forward to assisting you with your termite control concerns. Hop over to our contact pages to get started.
Learn more about our home pest control and commercial pest management solutions.
Request Your Free Inspection
Complete the form below to schedule your no obligation inspection.