About Green Flash Pest Control
Serving San Diego and Riverside County, CA and Phoenix, AZ, Green Flash Pest Control is a locally owned, family based company that has over 25 years of combined industry experience. We strive to offer a better quality of service to our community that focuses on reliable solutions, and outstanding customer care. If you're looking for a pest control provider that uses Integrated Pest Management to provide science-based pest solutions to address your pest control concerns in a conscientious way, you've found it. At Green Flash Pest Control, we use a multi-pronged approach that puts an emphasis on natural control methods. This means that we only use limited and targeted applications of EPA-approved products where they are necessary. Our services are child and pet-friendly, least toxic, and appropriately administered. At Green Flash Pest Control, our focus as a company is to be worthy of our customers, so please let us show you the Green Flash difference.
Why Choose Green Flash Pest Control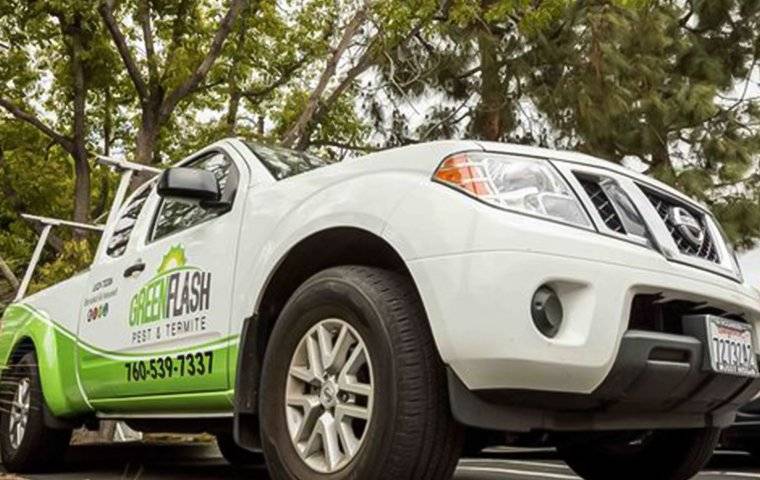 There are a lot of pest control companies in our area. Many of them provide services that are priced lower than ours. So, why choose Green Flash Pest Control?
We don't cut corners. You will get a guaranteed solution for your pest problem, every time.

Our leadership has decades of combined pest industry experience, and our team draws upon our collective knowledge to find the most trusted solutions.

We are affiliated with Pest Control Operators of California (PCOC) and the National Pest

We provide home pest control and commercial pest management solutions.

Management Association (NPMA) to keep our team informed of advancements in pest control strategies and products.

We are locally-owned. When you call in, you're not going to talk to someone in a foreign call center.

Our commitment is to be available. For this reason, we give our licensed pest professionals all the time they need during visits. They won't zip in and zip out.

Since we charge what is required for our services, we employ happy technicians. You may already be dealing with a very frustrating situation. You don't need a grumpy technician to add to your misery.
We could go on, but you get the point. You get what you pay for. Our team works hard to make sure you get a friendly service experience, the highest level of pest control, and a selection of services to allow you to find the right fit for your budget. This is our commitment to you.
What Matters Most To You Is What Matters To Us
We listen to our customers. Some of you don't want to be trapped in a contract and have to pay cancellation fees. We hear you. That's why we don't have contracts or cancellation fees. Some of you don't have the finances to get a warranty for your entire structure. We understand. That's why we offer flexible warranties for local treatments. You can warranty the spot of the treatment rather than the whole structure. Some of you are concerned about synthetic insecticides. We've worked hard to find a selection of organic products to meet your needs. It makes a difference when the company that serves you listens to you. That's the Green Flash difference. Reach out to us today to schedule a free quote or pest evaluation. We're here to help.
Request Your Free Inspection
Complete the form below to schedule your no obligation inspection.