Professional Pest Solutions For Rainbow, CA Properties
Located in the foothills of Rainbow Valley, the town of Rainbow, CA, is a great place to live, work, and play. We're about 45 minutes from the beach, and with a population of around 2,000, we offer small town energy at its finest. For every person in town, there are thousands of pests, meaning local pest populations outnumber us vastly. Unfortunately, that means all Rainbow homes and businesses are vulnerable to infestation, and it's a good idea for property owners to secure professional protection.

Green Flash Pest Control is a family-owned and operated pest control company that has been servicing properties throughout San Diego County and the surrounding areas since 2015. Our goal is to make "pests gone in a flash," and when you go with Green Flash Pest Control, you get:
Quality service and outstanding customer care.

Highly trained, qualified pest technicians who are licensed pest professionals.

Low-impact products and organic products safe for family and pets.

Tailor made services geared toward the individual customer.
Whatever kind of pest problems you're dealing with around your Rainbow home or business, we are here to help you. Get in touch with us today to discuss your residential and commercial pest control needs. We'll set up your initial inspection right away, and get the process started.
Home Pest Control In Rainbow, CA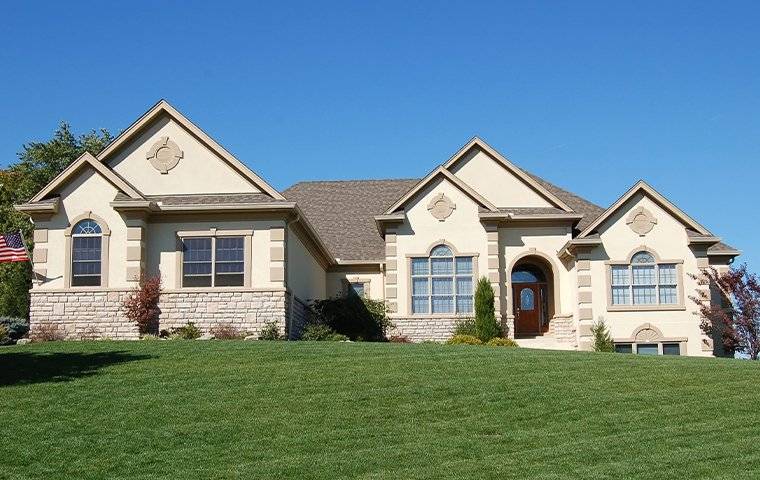 You and your loved ones depend on the safety of your Rainbow home, and pest activity threatens that sense of security. The most effective defense against household pest infestation is ongoing services from the pest professionals. Some of our residential pest control treatments include:
Perimeter spray treatments.

Interior sprays and wall injections.

Landscape treatments with granules.

Exterior de-webbing and full patio service.

Spot treatments for vent lines, eaves, and disposal areas.

Hardscaping and wasp nest removal.

Follow-up services and garage treatments.
We also offer additional services for rodent exclusions and sanitizing, turf treatments for deodorizing/sanitizing, pigeon proofing, German cockroach clean outs, organic pest control solutions, termite control and repair, ornamental agricultural and turf treatments, and stored product pest control. Call today for your free estimate and inspection.
Commercial Pest Control In Rainbow, CA
If you own a business here in Rainbow, pest activity is a year-round occurrence that you should be prepared for. The best way to deal with pests is to secure commercial pest solutions from your local pest experts. Here at Green Flash Pest Control, we've serviced hundreds of local properties, some of which include retail stores, office spaces, warehouses, factories, hospitality, doctor's offices, and property management.

We deal with a long list of common area intruders, some of which include termites, ants, cockroaches, rodents, stinging insects, spiders, fleas, ticks, earwigs, pigeons, and scorpions. Our team of qualified and licensed pest professionals is committed to providing the Green Flash Difference, offering customized solutions that are guaranteed, lasting, and always effective. With over 25 years of combined industry experience, you can feel confident knowing that we have your back. Contact us to get started.
Rainbow Homeowners' Handy Guide To Roof Rat Control
Roof rats pose a real threat to your Rainbow home. These rodents, also referred to as black rats or ship rats, find shelter inside of your house, mostly the roof. They also find shelter in attics, crawlspaces, and other upper areas of the structure.

As roof rats nest in your structure, they gnaw through and damage materials that make up the construction. That threatens the overall integrity of the structure, and puts you and your loved ones in harm's way.

Roof rats also chew on electrical wiring, infest insulation, destroy personal belongings, and contaminate stored foods. They can carry vector-borne illnesses which they transmit into us via contamination or by biting as well.

The best way to deal with roof rats around your Rainbow home is to call in the experts. Here at Green Flash Pest Control, our rodent control and prevention solutions give homeowners thorough coverage from roof rats, and other common area intruders. Get in touch with us today to learn more.
Why Stinging Insect Infestations Require Professional Care In Rainbow, CA
Here in Southern California, stinging insects are present year-round, and it's a good idea for property owners to address their stinging insect control and prevention needs. Not only are they hard to control once they get onto your property, but they also pose a threat to those around them.

People all react differently to stinging insects. Depending on your individual sensitivity, the reactions can range from mild pain, to severe allergic reactions. For those with serious allergies, it can even lead to anaphylactic shock.

The most effective way to address stinging insect activity on your property is to reach out to a team of experienced pest professionals. The team at Green Flash Pest Control provides complete stinging insect control and prevention solutions. Reach out to us today to set up your initial inspection.
Help Me Get Rid Of Odorous House Ants In My Rainbow Home
Odorous house ants are aptly named because of the rotting coconut-like smell they give off when crushed. This unfortunate house guest doesn't stand too far apart from other common house ants in appearance, meaning you might not be sure of exactly what you're dealing with until you're subjected to the odorous house ants' stench. Continue reading to learn more about odorous house ant identification, treatment, and the difference between odorous house and carpenter ants.
Odorous house ant treatment should be entrusted to pest control professionals like Green Flash, but some prevention methods can help reduce the risk of an infestation:
Eliminate any causes of standing water around your home, including leaking pipes or landscaping issues, as odorous house ants are attracted to moisture.
Control any moisture issues inside the home, especially around hot water heaters and underneath sinks.
Keep branches trimmed back from the roof and outside of the home.
Seal any cracks and crevices around the home's foundation with silicone-based caulk.
Do not store firewood or other building materials next to the home.
Seal food in glass or metal containers.
Take indoor trash out regularly. Sanitize the bins for indoor and outdoor trash once a week, and keep outdoor trash stored away from the home.
Odorous house ants may not be a health threat, but they're still a nuisance, and no one wants to risk unleashing their rotten coconut smell. Green Flash Pest Control offers state-of-the-art odorous ant control. When you entrust us to clear your home of pests, we will perform a thorough inspection and treatment that will leave you without a doubt or worry. For the best way to get rid of odorous house ants, call Green Flash Pest Control.
What To Do About Termite Swarmers In Rainbow
Buying a home is a big investment. It is one of the only things that financial advisors advise people to go into debt to purchase. This is mainly because paying off a home loan is much smarter than renting. If you have recently bought a home here in Rainbow or you are a long-time homeowner, another smart thing you should do is protect your investment against termites. If you didn't know, we are coming right up on termite season in Rainbow. If you don't know what termite season is and have never heard about termite swarmers, here are some things you should know today.
Of all the signs of termites you can use to identify these pests inside your home, swarmers are one of the most obvious. Where you find swarmers or their wings can say a lot about your current risk. Seeing these flying bugs around your home looking in is an indication that your home is under inspection. If swarmers find any sources of water-damaged or otherwise softened wood, they will build nearby and start causing problems. If you find swarmers indoors, it is a much worse sign. This is because the main way swarmers get into homes is through tunnels created by an existing mature infestation. Something to note with this is that termite colonies only create swarmers after they have become fully mature. This means if you find these pests indoors, your home has had a termite problem for a while.
If you suspect your home has a termite problem, your best option to get these pests out fast is to involve the professionals at Green Flash Pest Control. To find out your home's level of risk or to identify an existing problem, let one of our technicians perform a detailed inspection. This will allow our team to assess your property, identify if there is an existing problem, and develop a plan of action to handle these pests fast. If no termites are found, your technician will offer a long-term option to protect your home against these silent invaders as the damage these pests cause is not covered by homeowners insurance.
Contact Green Flash Pest Control today to learn more about our comprehensive termite control options and schedule your property for an inspection.
Are You Struggling With A Cockroach Infestation In Rainbow?
Cockroaches are not welcome visitors. Most of the time, though, they will come into your home no matter what your opinion is, and then very quickly you will have a full-blown cockroach infestation.
If you find a cockroach in your house you should try to take care of them quickly because these cockroaches are exposing you to more than 33 different kinds of dangerous bacteria as well as a number of other pathogens. Cockroaches come into your home after crawling through sewage and decaying matter, so if they are in your home and contaminating your surfaces and food, you might be at risk of illnesses like:
Salmonellosis
Typhoid fever
Cholera
Gastroenteritis
Dysentery
Listeriosis
Giardia
E. coli infection
In addition to these dangerous pathogens, cockroaches also can be hosts to various parasitic worms, and their saliva, urine, and feces contain allergens that can trigger allergic reactions and asthma attacks. If you find a cockroach in your house, you should get help quickly so that you can learn how to deter cockroaches and keep them away for good.
It is important you learn how to deter cockroaches so that you can keep them away before an infestation ever becomes an issue. This can be done by putting in proper ventilation in your home and reducing humidity levels, as these pests are attracted to moisture. Additionally, if you store food in airtight containers and clean and sanitize your home regularly, you are better protecting yourself from these invaders ever coming back.
When you have cockroaches on your property, you should contact Green Flash Pest Control, the most effective and reliable pest control you can find for your Rainbow, California home.
Are The Spiders In Rainbow Dangerous?
Spiders are scary and the sight of spiders everywhere is enough to make you concerned for your safety. However, arachnophobia is not the only reason to get rid of spiders in your house. These pests also make your space dirty and unattractive with their webs. Furthermore, different types of spiders can bite you, your family, or your pets, potentially causing serious health risks.
Spider bites may cause swelling, redness, and pain in the affected area. The bites can result in breathing difficulties, vomiting, headaches, and muscle cramps in extreme cases. Furthermore, the dead pest debris and pollen trapped in webs invite allergies. If you get bitten by a venomous spider such as a brown recluse or a black widow, the results could be much more drastic.
Spiders also signal another pest infestation. These arachnids mostly come to your house if they can find something to eat. Chances are you have moths, flies, ants, or cockroaches in your home if you see spiders everywhere.
When it comes to spiders, DIY methods have limited effectiveness, and they may not eliminate every pest in your home. A professional exterminator can identify various pests and control them from the source, for starters. Moreover, some homeowners are afraid of spiders and cannot handle the pest problem alone. Have you seen any crazy-looking spiders in your house? Call Green Flash Pest Control today to get rid of spiders and prevent them from returning.
Request Your Free Inspection
Complete the form below to schedule your no obligation inspection.