Keeping Your Riverside County Home Free Of German Cockroaches
Several common species of cockroaches infest homes in areas around Riverside and San Diego Counties in California and Phoenix, Arizona, but German cockroaches are the most common of all. They are also the hardest to get rid of when they get into your house. These small, tannish-brown bugs breed quickly, are often resistant to treatments, and spread dangerous pathogens wherever they go.
Having German cockroaches in your house is a serious cause for concern. Their filthy lifestyles leave your family at risk of illness, and many people also have problems with a cockroach infestation triggering their allergy and asthma symptoms. Eliminating the infestation as quickly as possible is important for your health and well-being, and it requires the help of trained professionals. Green Flash Pest Control has the experience needed to effectively treat German cockroach problems with warrantied results.
German Cockroach Clean-Outs From Green Flash Pest Control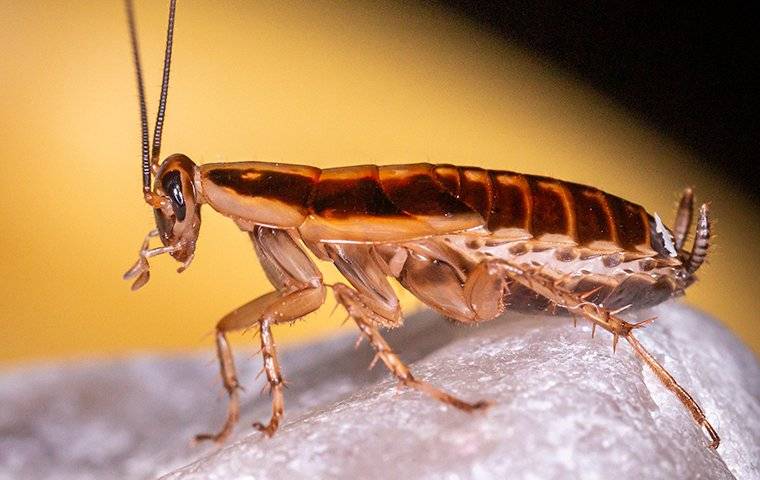 A German cockroach clean-out is a thorough and intense treatment designed to eradicate the vast majority of your infestation at once. The products we use will also work after we leave to eliminate the rest of the infestation.
Prior to our clean-out, we'll provide you with the required literature and prep sheets to get ready for our treatment. You'll need to read the material and follow the preparation steps before we arrive so that your house is prepared to be treated.
During our service, we perform the following treatments:
Crack and crevice treatment using a liquid insecticide that has an insect growth regulator to stunt growth

Atomizer flush-out

Dust application to wall voids and areas of harborage

Bait placement
In addition to our treatment procedures, we'll also provide you with a sanitation report and make recommendations about changes you can make to eliminate conducive conditions.
Our German cockroach clean-out service includes follow-up services as needed. It also has a 30-day warranty. We will return as necessary in the month following your initial service to ensure the full elimination of your cockroach infestation.
Your Healthy Home Starts With Green Flash Pest Control
If German cockroaches have gotten into your house, your entire family is at risk of serious health problems. Cockroaches are one of the most difficult pests to eliminate, which is why you need the help of the professionals at Green Flash Pest Control. We have the tools, products, and knowledge necessary to completely eliminate your German cockroach problem. Contact us today to get started.
Learn more about our home pest control and commercial pest management options.
Request Your Free Inspection
Complete the form below to schedule your no obligation inspection.