What Do You Do If Termites Have Damaged Your House?
Termites are pests that you'd do best to avoid, but sometimes a colony manages to sneak into a home and quietly eat away at the wooden elements inside while the homeowner remains none the wiser. Over time, termite colonies can grow into hundreds of thousands of members, and the damage to the structure they've infested can become extensive.
If you've discovered an infestation in your home located around San Diego or Riverside Counties, California or Phoenix, Arizona, your first order of business is to eliminate the termite colony as soon as possible. However, that's just the first step. The next thing you need to do is repair the damage they've caused. Termites often damage structural supports, putting your house and family in danger. Green Flash Pest Control offers termite repair services to fix the areas affected by termites.
Termite Repair Services From Green Flash Pest Control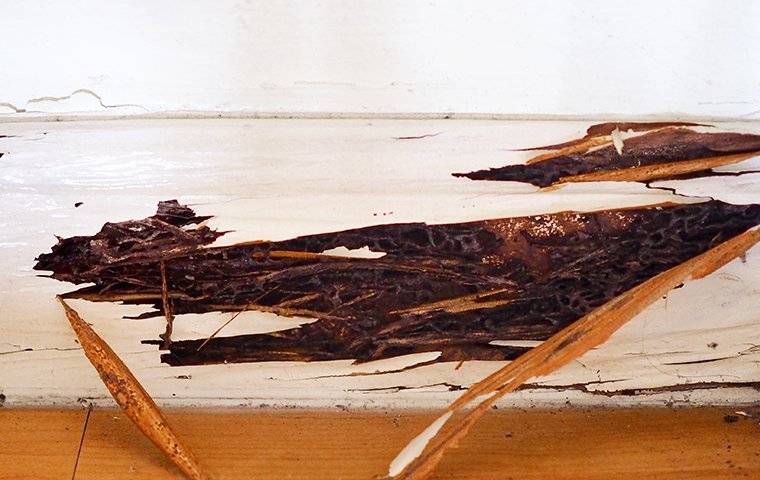 Our termite repairs include the safe, practical removal and reinstallation of termite-damaged wood. This service is separate from our comprehensive termite control service in San Diego County & Riverside County, CA, and is available on a stand-alone basis. All repairs are done up to code by our in-house team of termite repair specialists.
Termite Repair Frequently Asked Questions
Do I have to fumigate my home, or are there other options?
Although fumigation is primarily recommended, Green Flash Pest Control offers localized and preventative treatments to address situations where fumigation is not possible for any reason.
How many days do we need to be out of our home if we decide to fumigate?
Three days. If we fumigate the home on a Monday, you can return by Wednesday afternoon or evening in most cases. If we fumigate on a Thursday or Friday, the return day in most cases will be the following Monday.
Does Green Flash Pest Control repair dry rot and fungus-infected wood?
We do. Green Flash Pest Control has an in-house termite repair team specializing in termite repairs, including wood replacement, wood patching, wood preservatives, attic screening for swarmer prevention, and much more.
Do Green Flash termite services come with warranties?
Yes, we warranty our termite repair services. Our local treatment warranties vary depending on the client's preferences. You can warranty the full structure or just warranty the area of treatment. This flexibility allows our services to benefit all budgets and client needs. Local treatment warranties start at one year and can be purchased for up to two years, depending on the inspection results.
Fumigations receive a three-year full structure refumigation warranty. All our warranties are renewable on an annual basis.
Do we have to replace wood members if we find termites?
No. In some cases, wood replacement or repair may not be necessary. However, correcting the damage does have its benefits when it comes to reinfestation and non-fumigating control methods. We always recommend repairing areas affected by termite damage, especially when the wood member no longer serves its purpose due to the amount of damage.
If you suspect termites are active in your home or if you have termite damage in your house that requires repair work, contact Green Flash Pest Control today. Our experts will get your home termite-free and will make sure it receives the repairs it needs.
Learn more about our home pest control and commercial pest management solutions.
Request Your Free Inspection
Complete the form below to schedule your no obligation inspection.